0800 644 6394 | info@pro-electrical.co.uk
Data Cabling &

Structured Wiring Systems
Customer in Horley
May 2013
Installation of external power socket and additional internal sockets in garage.
"The installation was done very neatly and they worked around a quite cluttered garage without any problem. Jason and his colleague were both very courteous and worked efficiently. I am very glad we've had the work done as we have been using the garage as a utility room with extension leads everywhere."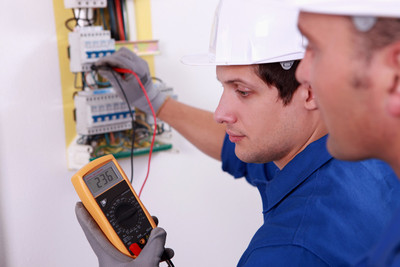 Here at Pro Electrical, our electrical engineers are able to provide Data Cabling and Structured Wiring Systems for residential and commercial properties. Working with clients in and around Surrey, East and West Sussex we can install data cabling and structured wiring solutions in size from 1 to 1,000; we have experience in a wide selection of varied environments such as homes, schools, hotels, manufacturing and retail centres.
Domestic Data Cabling and Structured Wiring Systems
Smart TVs and Home Media Systems are popular items for many homes; through introductions of these appliances in homes we have seen an increase of clients who require structured wiring solutions for their homes. Another reason our clients come to us is because they have chosen to set up their own business, they now work from home and this means more electrical wiring is required at a higher level.
If you feel you need Data Cabling or Structured Wiring Systems for your home we will listen to your requirements and then install data points for you. These data points could be used for a wide range of appliances such as computer networks, laptops and desktops, new or additional telephone systems, new printers and other requirements you have for your home office. We can also install data points for the leisurely requirements in life such as a Smart TV, media centre for music or file sharing and hard drives for backing up files, music and media.
Some of our clients require Data Cabling and Structured Wiring Systems for CCTV, Intruder Alarms or door access systems for external gardens or garden rooms.
Commercial Data Cabling or Structured Wiring Systems
Dependant on client requirements, our electrical engineers can run in cabling to your commercial building for a full network system. We can also terminate all points at RJ45 or patch panels throughout the building depending on the clients' needs and requirements.
Here at Pro Electrical we can offer very basic systems that allow you to wire directly to a router or we can introduce a small patch panel which will allow you great flexibility. Why not call us for a free, no obligation quote?