0800 644 6394 | info@pro-electrical.co.uk
Electrical Contractors Horsham
Customer in Horsham
15 May 2013
Install new fuse board, mains smoke alarm system, embed sockets and move/replace light fittings and switches.

"Pro electrical were very professional. Everything was explained clearly from the outset in language I could understand and the work was completed to a high standard. There was no attempt made to oversell or provide things that were unnecessary. Where we had a minor issue after the work was completed, this was also resolved very speedily. I've marked down tidiness a bit as there were a few coffee cups and lunch items left behind, but in terms of clearing up the work mess this was spot on."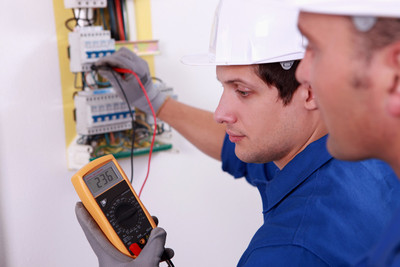 Whether you're a landlord, property owner or homeowner, Pro Electrical actively promotes its professional electricians to Horsham. Your electrics should always be installed and tested by an expert, who is why we supply only the best, experienced electrical contractors to resolve your electrical issues.
Electrical work, from data cabling to major electrical installations in Horsham
From minor electrical wiring to complete electrical installation, our electricians cover all aspects of electrical work, ensuring a timely and effective delivery of results. Our professionals are all Part P certified and have many years experience dealing with the correct installation and maintenance of electrics in residential and commercial properties.
Electricians in Horsham for landlords, homeowners and business owners
If you're searching for a reputable electrician to cover your electrical needs, Pro Electrical can guarantee a competitively priced service to Horsham property owners, which offers the same high quality service that you'd expect to pay more for.
Your safety is our priority, which is why we want to make sure you speak with a professional electrical contractor before having your electrics installed or repaired. Faulty electrics are a hazard that many of us are unaware of, you could be putting yourself, your family and visitors and risk if you haven't had your electrics tested or installed by a professional.
Electrician in Horsham for PAT Testing
If you're situated in Horsham and require help from a certified electrician, you can depend on the Pro Electrical team to deliver you an excellent project that is effectively managed form start to finish. You can guarantee professional communication form start to finish, with our advisory service still apparent after completion. Here we deal with both small and large electrical projects, from data cabling to full electrical wiring installations.
With highly skilled electrical contractors available for our Horsham clients, speak with the team today to ensure a careful and professional management of your electrics. We always ensure our customers are 100% satisfied and will guarantee nothing less than a professional service – this is because your safety is in our hands.
​