0800 644 6394 | info@pro-electrical.co.uk
Electrical Contractors Dorking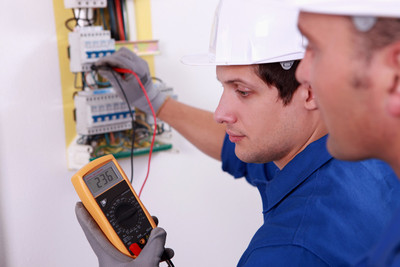 Are you a landlord, estate agent or business owner in charge of maintaining a rental or commercial property? Then you have a responsibility of ensuring that the electrics are of a sufficient level of safety for your residents or workers. At Pro Electrical, we are fully aware of the importance and hazard of electrics, so we provide our expertise to home and property owners in Doking. We want to educate you on your electrics and supply our electrical services to ensure you, your family and friends are safe.
Landlords and letting agents have a legal obligation of care to tenants. Failure to comply with Electrical Regulations may constitute a criminal offence under the Consumer Protection Act, carrying a maximum penalty of a £5,000 fine and/or six months imprisonment. The Health and Safety Act 1974 also states that in Doking and the UK, all employers are responsible for ensuring the health and safety of their employees and public (customers or clients). At Pro Electrical, our electricians specialise in periodic inspections, electrical installations, complete rewiring and other electrical services. It is imperative that registered engineers – such as Pro Electrical, carry out all of these services for properties across Doking.
The law should be your biggest influence towards investing in an electrical contractor, however if you read the following statistics, you can be persuaded further. Last year, over 1,380 fatalities and injuries were caused by electrical fires – an average of 27 people a week, meaning 4 per day. Unsafe electrical appliances can cause death. You could be risking the tenants and resident's lives if you don't choose to inspect your electrics. At Pro Electrical, our contractors only call out the best. Our team of electricians acquire the skills, knowledge and techniques needed to provide advanced electrical services in Doking – whether its rewiring a property, fitting in wireless smoke detectors, or installing electrics and lighting into multiple houses - you can count on us to carry out the best job.
Electrical Contractors for Letting agents, Estate Agents, Landlords and Business Owners in Doking
Pro Electrical's electrical contractors can send a team of highly qualified electricians who will work closely with letting agents, estate agents, landlords and businesses across Doking. If you have invested in your own property, you have a big responsibility to take care of your residents or staff. At Pro Electrical, we can relieve you of such responsibilities by making it our job to maintain each of your staff or occupants' safety.
Landlords must ensure that all electrical installation in a rented property is safe when tenants move in and throughout its duration. Our registered team of electricians at Pro Electrical will periodically inspect all homes and businesses in Multiple Occupation every 5 years and ensure that all appliances obtain at least the CE Marking. We will effectively carry out all property requirements, maintaining your tenant's safety and covering you from fines or hazards. Our experts also help reduce the number of electrical accidents at work and in rented homes, in which we will install lights, fire and intruder alarm systems and ensure inspections of all electrical appliances in your workplace or rented property. Keep your employees or tenants safe and comply with the law in Doking by choosing our professionals at Pro Electrical.
Electrical Contractors for PAT Testing in Doking
Our electrical engineers offer PAT testing, ensuring that business owners and landlords comply with all regulations, such as 'Electricity at Work 'and requirements for landlords/letting agents. PAT testing, also known as Portable Appliance Testing, involves a series of inspections on all portable appliances within a place of work or a home with multiple occupants (rented accommodation). PAT testing ensures the safety of tenants and staff within their home or business, in which landlords and employers acquire a duty of care to their employees, customers and tenants. This duty of care is a legal requirement, which can be met through PAT testing within many commercial and rental properties. Pro Electrical provides PAT testing across all rented homes and businesses across Doking.
Are you a landlord, letting agent or business owner or Doking? Choose Pro Electrical for your legal duties. Avoid penalties and maintain your tenant's or employees safety. Call us on 07771 330144 for a free quote.
• Change or repair to a socket or switch.
• Full or partial re-wiring of a property.
• Electrical safety check on your home.
• New installations, new builds, outbuildings, sheds, conservatories and extensions.
• Additional sockets either indoor or outdoor.
• Additional lighting points or switching positions.
• Outdoor security lighting.
• Bathroom / Kitchen lighting designs ideas.
• Electric showers.
• Electric under floor heating
• Testing and inspection
• Fault finding
• Landlord inspections.
• Pat testing.
• Emergency lighting.
• Data cabling – home or business networking
• Solar (PV) electrical panels.
• Emergency call out.