0800 644 6394 | info@pro-electrical.co.uk
Electrical Contractors in Reigate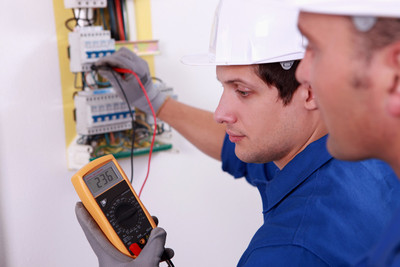 Are you an estate agent in need of an electrician? Be rest assured, Pro Electrical can help. Our electrical contractors in Reigate are made up of a team of competent, experienced electricians willing to amend your electrical requirements in your property – whether you're a landlord, estate agent, letting agent or business owner. We are aware of the dangers that your staff or tenants may face if the electrics aren't installed or maintained properly; therefore at Pro Electrical, we want to educate you and offer our services to property owners in Reigate.
Our professionals at Pro Electrical will stop the risk of electrical faults and potential fires, by ensuring they're working correctly. We specialise in major electrical installation and repair work to commercial, industrial and domestic properties, offering services such as; rewiring a property, fitting in wireless smoke or intruder alarms and installing electrics and lightings into multiple new builds. Our electrical contractors acquire the skills, knowledge and capabilities needed to provide top quality services for bigger, more advanced projects in Reigate.
Electrical Contractors for Landlords, Letting Agents and Estate Agents in Reigate
At Pro Electrical, as electrical contractors, our skilled team provide services specifically for landlords, letting agents and business owners. We want to ensure the safety of your tenants, employees and customers – which won't be maintained without a qualified team of electricians. For landlords and letting agents, your tenant's safety is a legal requirement. Without fulfilling the guidelines of the law, landlords risk major financial penalties – and even imprisonment. The law states that periodic inspections must be carried out every five years, within multiple occupation houses. All electrical appliances should be installed and maintained by registered electricians having at least a CE marking - reducing the risk of electrical faults which can spark potential fires. At Pro Electrical our specialists provide services including; periodic inspections, electrical installations, full rewiring of your property and more.
Although a legal requirement, read the statistics. A staggering 144 workers lost their lives due to electrical faults last year, alongside 57 injuries. This means that over 200 individuals were exposed to an electrical fault at work, which could have been easily fixed and checked by a registered electrician. Furthermore, there were 7,763 electrical fires in a se t year caused by faults at home, leading to 25 deaths and 799 injuries. If you own a property or are letting one out, you have a duty to prevent such dangers. Don't be responsible for death of the people you share your property with.
Electrical Contractors for PAT Testing in Reigate
For the upmost safety of your tenants and residents, a periodic inspection is recommended to be carried out every five years – a legal requirement for a house in Multiple Occupation. Our electric engineers offer PAT testing, also known as Portable Appliance Testing, which involves a series of inspections on all portable appliances within a place of work or a home with multiple occupants (rented accommodation). PAT testing ensures the safety of tenants and staff within their home or business in Reigate, in which landlords and employers acquire a duty of care to their employees, customers and tenants. This duty of care is a legal requirement, which can be met through PAT testing within many commercial and rental properties.
When was the last time your business or rented property was properly inspected? All rented homes must be inspected every 5 years to minimise electrical dangers; and you, as a landlord, employer, letting agent or estate agent, have a duty to maintain this. Call Pro Electrical today to secure your property.
• Change or repair to a socket or switch.
• Full or partial re-wiring of a property.
• Electrical safety check on your home.
• New installations, new builds, outbuildings, sheds, conservatories and extensions.
• Additional sockets either indoor or outdoor.
• Additional lighting points or switching positions.
• Outdoor security lighting.
• Bathroom / Kitchen lighting designs ideas.
• Electric showers.
• Electric under floor heating
• Testing and inspection
• Fault finding
• Landlord inspections.
• PAT testing.
• Emergency lighting.
• Data cabling – home or business networking
• Solar (PV) electrical panels.
• Emergency call out.