0800 644 6394 | info@pro-electrical.co.uk
Electrical Contractors Henfield
Customer in Henfield
20 May 2018
Install new fuse board, mains smoke alarm system, embed sockets and move/replace light fittings and switches.

"Pro electrical were very professional. Everything was explained clearly from the outset in language I could understand and the work was completed to a high standard. There was no attempt made to oversell or provide things that were unnecessary. Where we had a minor issue after the work was completed, this was also resolved very speedily. I've marked down tidiness a bit as there were a few coffee cups and lunch items left behind, but in terms of clearing up the work mess this was spot on."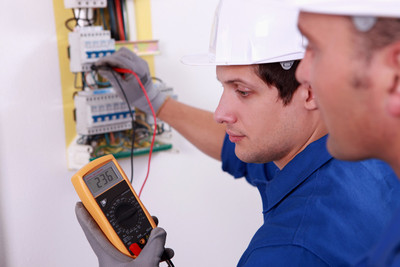 If you own a business property or are a landlord, it is a legal requirement to ensure your electrics are installed and tested by vetted electrical contractors. We exist to provide business owners and landlords with reputable electricians who have acquired many years worth of experience dealing with the correct installation and maintenance of electrics. Your electrics are a potential risk factor if they haven't been installed by vetted an electrical contractor that is why we actively promote our qualified electricians all over the Henfield area.
Electrical work, from data cabling to major electrical installations in Henfield
Our electricians carry out all kinds of electrical work, from minor appliance checks to large electrical installations and data cabling. All of our electrical services are competitively priced and offer the same high-quality workmanship that you'd expect to pay more for.
Electricians in Henfield for landlords, homeowners and business owners
We exist to make sure landlords, home and business owners have safe, correctly working electrics and wiring to prevent health hazards and to keep you abiding law regulations.
If you're based in Henfield and are looking for a reputable electrical contractor, you can find the best, vetted electricians here at Pro Electrical.
Electrician in Henfield for PAT Testing
We don't often consider caring for our electrics and tend to take them for granted, we actively recommend to our Henfield customers that they should have their electrics tested every few years just to give you peace of mind that they're working correctly. We offer vetted electrical installations and replacements, ensuring a professional, timely result.
All of our electrical contractors have acquired many years of experience working within the electrical industry, achieving both practical and academic skills. If you're lending out a property or receiving many visitors a day in a business environment, then it is required by law that you have your electrics dealt with by a professional whether it's installation or maintenance. At Pro Electrical we can supply you with the best, most reliable electrical contractors in Henfield. If you are interested in our services and would like to find out more get in touch today.
​