0800 644 6394 | info@pro-electrical.co.uk
Customer in Reigate
17 June 2014
2 new sockets and 1 convector heater installed in new conservatory.
"The 2 young electricians were extremely polite and very tidy with their work in the conservatory. The only reason why I didn't score the work done higher than 9 is because they left me with quite a hole in the wall from which they "trailed off" the electricity because our wall crumbled. But this got fixed by the conservatory people so not a big issue in the end. I will definitely call them again should I need any other work done."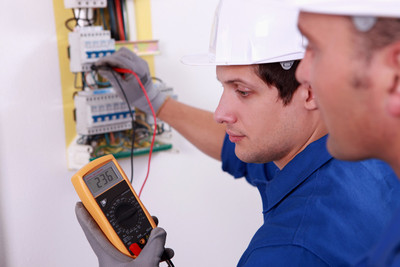 Here at Pro Electrical, our electrical engineers are able to offer commercial and domestic customers in Surrey, East and West Sussex a wide variety of cost-effective inspection and test facilities that give peace of mind that the home or business electrics, are safe.
Domestic Electric Inspection and Electrical Testing
Customers often book a domestic, electrical inspection and electrical, testing service with us when they have electrical concerns within the home, or when their electrics are dangerous or deteriorating . We often complete electrical inspections and tests throughout brand new homes before purchase; so homebuyers know the property is safe before they hand over their life savings.
Commercial Electric Inspection and Electrical Testing
If you are considering moving your business to a new office ,buying an office or you are a landlord who owns properties - commercial electrical inspection or electrical testing can be an excellent idea for ensuring your staff and/or tenants are safe within the property, ensuring all electrics are in safe working order.
Visual Electrical Condition Report
We complete a visual electrical report on all general, electrical installations. This is completed with minimal disruption to the normal day of those in the building and is popular with our clients as a cost-effective way to establish if the electrical installation is deteriorating or could become dangerous.
Periodic Electrical Inspections and Testing
On completing an electrical installation an initial inspection is carried out through the building, any limitations are agreed with the customer. Once this inspection is done we then complete a full test of all the electric circuits in the building. We then create a detailed report which offers easy to understand recommendation codes that allow our customers to determine if any dangers are present and if there are any safety concerns that must be addressed by our client.
There is great necessity for periodic electrical inspections and testing for a building, these must be completed when there is a change of occupancy in the building, the use of the premises has changed, if there is a significant change in the electrical loading and where there is reason to believe that damage may have caused to the electrics due to flood, storms or fire. Periodic electrical inspection and testing are necessary to assess compliance with wiring regulations BS 7671 ensuring that all electrical installations are in a safe condition when installing and on-going. The inspection and test make our clients aware of any damage, wear, tear, corrosion, excessive electrical loading, ageing or environmental influences on the electrical installation and wiring.
Why not call us to book an electrical inspection and testing service to ensure your electrics are safe and sound?